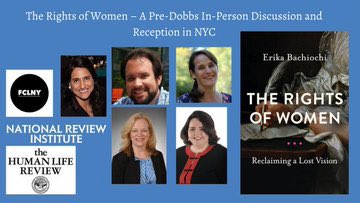 Thursday night in New York, the National Review Institute's Center for Religion, Culture, and Civil Society will be joining Feminists Choosing Life of New York and the Human Life Review for an actual in-person event with Erika Bachiochi about her new book The Rights of Women: Reclaiming a Lost Vision. New York needs an event like this at a time when we have a woman governor who has both claimed the suffragettes were the shout-your-abortion type and encouraged Texas women to come to the Empire State for abortions. She's called for further expansion of abortion and has encouraged the likes of Facebook to crack down on pro-life activism (misinformation by her mind).
If you are in the New York area and able, would you join us on Thursday night? Details are here. I'll be moderating a conversation after Erika's initial remarks with bioethicist Charlie Camosy, Maria McFadden Maffuci (Human Life Review), and Michele Sterlace (Feminists Choosing Life of New York). And please pass the word around.
This is going to be an event of interest to people beyond the typical pro-life crowd. I hope it will be a real opportunity.