What happens when a country music icon and a Hollywood legend team up to take down vicious liberals?
They don't stand a chance!
MORE NEWS: [VIDEO] Portland Cops Look On Bewildered As Antifa Rioter Lights His Feet on Fire After Hurling a Molotov Cocktail 
That's what country music singer Travis Tritt and filmstar James Woods just did, and they've come up with a sure-fire plan to help combat social media censorship.
Earlier, James Woods tweeted out a suggestion on how to silence the left.
Here's what he said: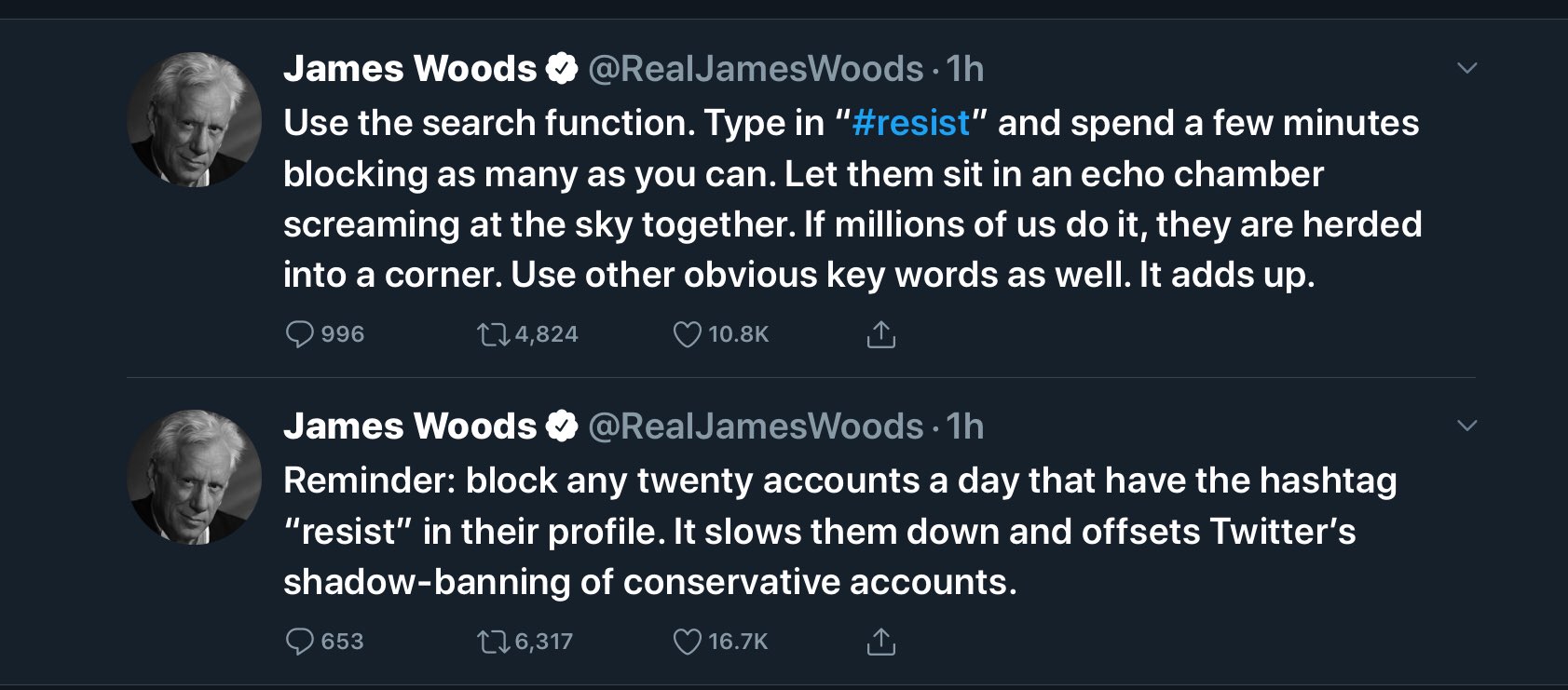 So, James's theory is that if we block enough of the #Resist crew, they'll end up in an echo chamber, speaking to basically nobody, and eventually, because they're blocked by so many, they'll fall off the algorithm map and that in turn will slow down the process of Twitter shadow-banning conservatives.
Hmmm.
Well, I can tell you one thing, it really made the left mad.
Needless to say, they started lashing out at James.
I used the "search" function. I typed " abusive underage skirt-chasing cokehead with delusions of grandeur." The first 10 results all said James Woods. pic.twitter.com/lGSLwagaxP

— Bjorn Again Borg ? (@mrFawkes51) September 6, 2020
James Woods thinks that is method will put us Liberals "into a corner". If this put us in a corner does it not put them in a corner too? Stuff like this is what makes Conservatives stupid. https://t.co/jKRc17Yr7L

— Secret Agent Number Six (@DesignationSix) September 6, 2020
But it's an interesting theory, and if it pisses off the left that's even better, right?
And country singer Travis Tritt hopped on board, too!
Per my friend @RealJamesWoods, type #resist in your Twitter search bar. Block at least twenty of these accounts per day. We will soon make them as irrelevant as they have tried to make the rest of us.

— Travis Tritt (@Travistritt) September 5, 2020
Travis isn't holding anything back at this point. He's slamming leftists, Pelosi, you name it.
If you're like me, I get sick and tired of arguing with sheeple who automatically subscribe to any fake news story from anonymous sources without researching anything on their own. It is an exercise in futility.

— Travis Tritt (@Travistritt) September 6, 2020
If an 80 year old career politician can be "set up" this easily, what does that say for her ability to be trusted with our country's most trusted secrets? https://t.co/fYdCmMP7NX

— Travis Tritt (@Travistritt) September 3, 2020
It's great to see other big names come out in support of the conservative agenda and help us fight against this massive leftist machine.
Of course, Mr. Tritt is getting hammered by a lot of #Resist people – but that's okay, at least they identify themselves, so he can block them right away.
He should start with this guy.
So James Woods and Travis Tritt?? Are trying to turn Twitter into Parler by telling Trumplicans to block all resisters
Then I guess they can all just stroke each other with tales of how great Trump is and how great they are for worshipping him

— William Buecker (@wcbuecker) September 6, 2020
Ha! Win/win!
Attn: Wayne Dupree is a free speech champion who works tirelessly to bring you news that the mainstream media ignores. But he needs your support in order to keep delivering quality, independent journalism. You can make a huge impact in the war against fake news by pledging as little as $5 per month. Please click here Patreon.com/WDShow to help Wayne battle the fake news media.