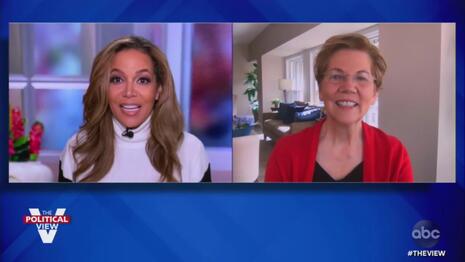 Former President Obama was on the campaign trail Wednesday stumping for Joe Biden and attacking President Trump while the actual Democrat candidate hides in his basement from reporters. And as you'd expect from the fawning media, they couldn't get enough. On The View Thursday, the Obama fangirls actually asked if his attacks against Trump changed Trump voters' minds.
Senator Elizabeth Warren was on the show to campaign for Biden but mostly just trash Trump. Co-host Sunny Hostin asked her guest about Obama's campaign stop yesterday:
"Senator, President Obama held his first in-person campaign appearance on behalf of Vice President Biden last night in Philadelphia, and he held no punches," she gushed before playing a clip of Obama mocking Trump for "making stuff up," about Biden, having a Chinese bank account, and bragging how Trump "inherited" his good economy. 
Grinning from ear to ear, the hopeful Hostin wondered if this attack appealed to Trump voters. She gushed to Warren: "So like I said, he held no punches, right? But do you think President Obama converted any Trump supporters yesterday?" 
One wonders what on earth prompted Hostin to phrase the question that way, given how the show hosts' have called Trump voters racist terrorists.
Warren was equally enthusiastic about Obama's anti-Trump attacks and Hunter Biden gaslighting. She hoped that his words impacted the undecided voters at least: "Yeah. He was right in everything he said because so can we just start with that? Boy, and he was direct. Nobody missed it. You know, I'm not sure if he converted Trump voters, but I'll tell you what he did do. He stirred up the people who are not already committed Trump voters, and that is a good thing," she praised.
Here was another laughable question from host Joy Behar. Sounding like a panicky White House correspondent, she wondered if Democrats would have to physically wrestle the president out of the Oval Office after he loses:
BEHAR: Yeah. Well, there are some Republicans who are already starting to distance themselves from Trump. I think they see the writing on the wall if they have a brain in their heads, but if Trump refuses to peacefully transfer power as he has suggested or threatened that he might do, do you have faith that any of your Republican colleagues will make good on their promise to force him out? Or do we have to just go there physically and wrench him out of the chair in the White House? 
Clearly ignoring the Republicans who came out and said there would be a peaceful transfer of power, Warren indulged Behar's nutty question with, "That's a question we need to keep asking every Republican right now!" 
Sunny Hostin also hoped the far-left Warren would push Biden to pack the Supreme Court. After Warren slammed Amy Coney Barrett as an "extremist," she asked:
Senator, Vice President Biden says he's going to put a bipartisan commission together, and you have said the Democrats need every option on the table when it comes to the Supreme Court, and you've expressed some openness to the idea of adding more judges to the court. Are you in favor of expanding the court or perhaps an age limit in place instead of a lifetime appointment?
While The View alluded to the Hunter Biden scandal on yesterday's show, they didn't bring it up to Warren. The softball interview only included one critical question from Sara Haines asking about Dems' responsibility for stimulus funding negotiations.
Pampers and Secret sponsored this segment all about protecting Biden. You can contact them at the Conservatives fight back page.