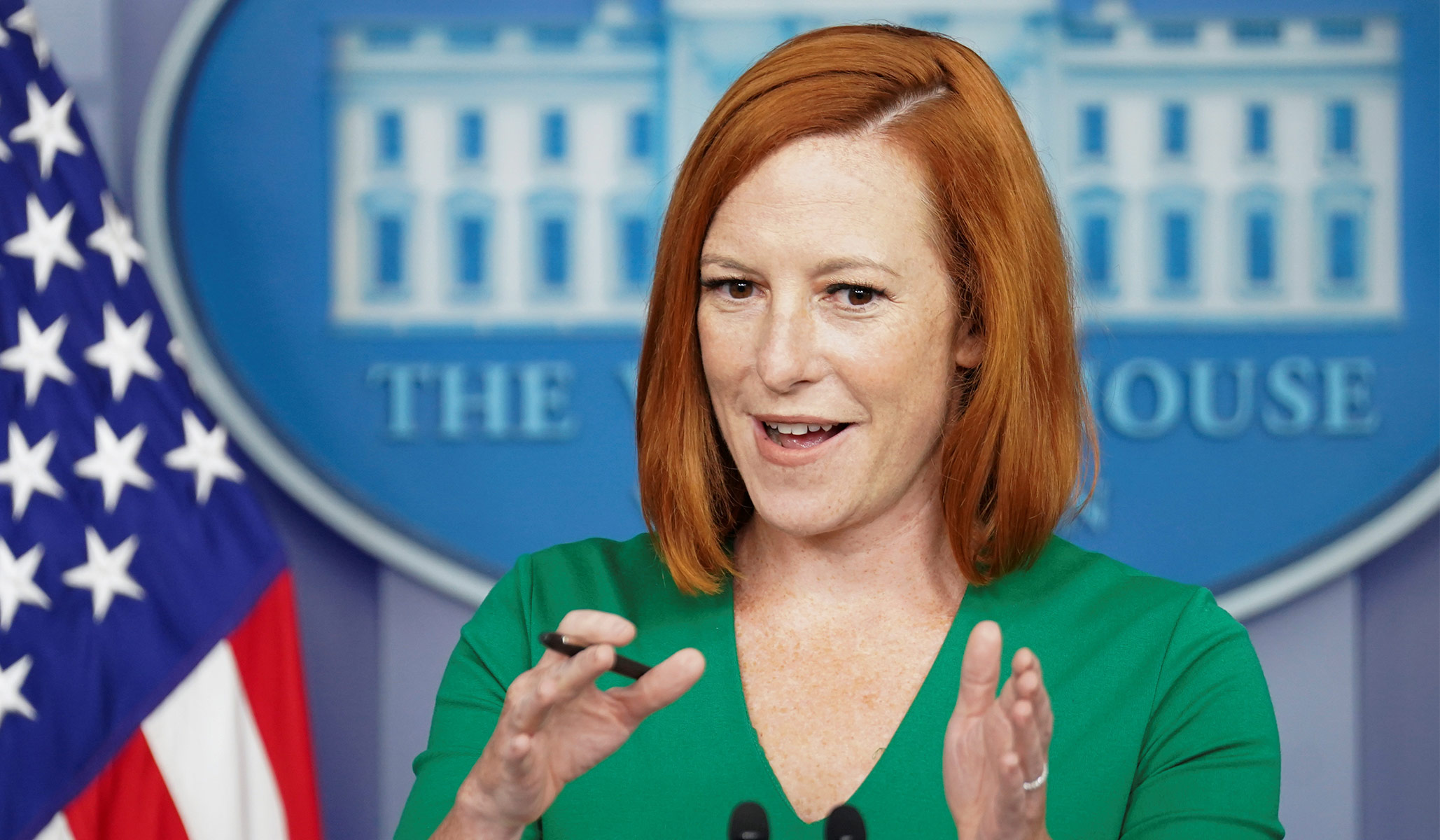 At the White House yesterday, press secretary Jen Psaki said that when Biden's chief of staff Ron Klain endorsed the argument that inflation and supply chain problems are "high class problems," what he really meant to say is that it is a relief that we don't face high unemployment and a full-scale pandemic as well as our existing economic problems.
So, just for context, what the — what Ron Klain retweeted was a tweet from the former Chairman of Economic Advisers, Jason Furman, where he said — for full context, which I think is important — "Most of the economic problems we're facing (inflation, supply chains) are high class problems."  What he went on to say is, "We wouldn't have had them if the unemployment rate was still 10 percent.  We would instead have had a much worse problem."

So I think the point here is: While there are some critics who are saying — what some of these critics are saying is: I don't — we don't know if they're saying that what they thought was great was when the unemployment rate was double what it is today, or when people were locked in their homes and therefore gas prices were lower.

We're at this point because the unemployment rate has come down and been cut in half, because people are buying more goods, because people are traveling, and because demand is up, and because the economy is turning back on.
Yes, demand is up, but no one should be surprised that demand is up as the coronavirus pandemic, which kept tens of millions of Americans stuck at home and minimizing their interactions with other, is put behind us. And as the administration brags about the lower unemployment rate, remember that the labor force participation rate is 61.6 percent — almost two percentage points lower than the pre-pandemic February 2020 level of 63.3 percent. About 4.3 million American workers have disappeared from our economy.
And the reason so many Americans are loudly complaining about the economy is because after a while, those allegedly "high class problems" start outweighing a lower unemployment rate. Gas prices are at a seven-year high, home heating bills are expected to surge this winter, inflation is at the highest rate in more than a decade, and food prices are rising even faster than inflation. Wage gains are being eaten up by skyrocketing prices. Over the past year, rents have increased 11 percent and mortgage payments have increased 15 percent.
What, are the American people supposed to be grateful for this mess?
Psaki continued:
But what the point is here is that — is that we are at this point because we've made progress in the economy, and what would be worse, in our view, is if the unemployment rate was at 10 percent, people were out of work, hundreds of thousands of people were still dying of COVID, and people weren't able to lose their homes.  So, that's the full context.
After yet another case of "what he meant to say," Psaki was asked whether Klain's Twitter feed was becoming a problem for the administration.
Q    And that's a much more eloquent way of putting it than the "high class" comment in that tweet.  It's not the first time that Ron Klain's Twitter has drawn some sharp criticism.  Is that something that the White House is addressing at all, given this pushback, this criticism?

MS. PSAKI:  Are we addressing the Chief of Staff's Twitter habits?

Q    Yes.

MS. PSAKI:  It is not a top priority, I would tell you, at this point in time.  The Chief of Staff is out there speaking on his own accord to members of Congress, to the media, frequently, as any chief of staff does.  And I think it's important also for anyone here to be able to tout points that they find interesting, and that's the purpose of public speech.