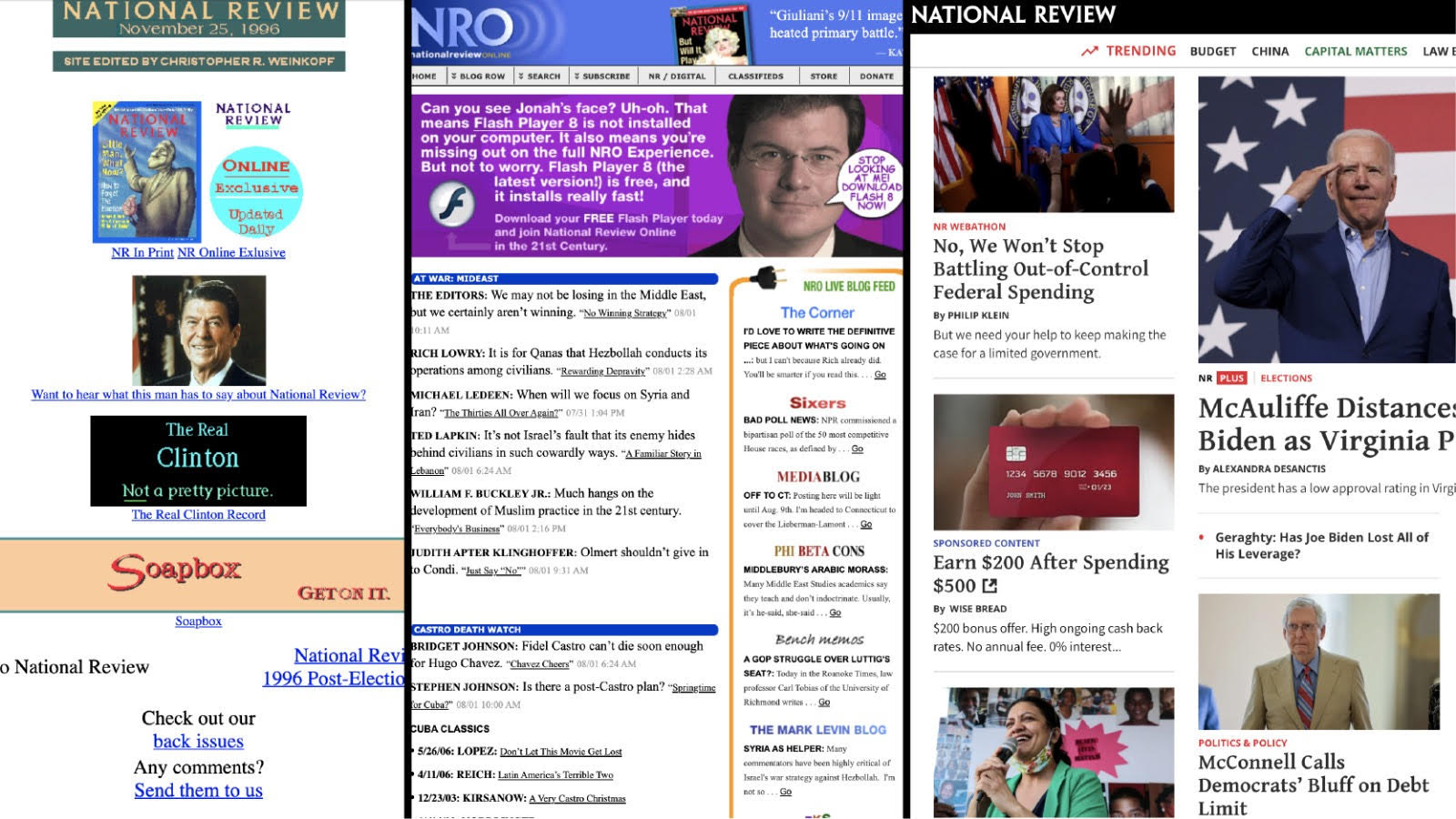 At only age 34, I would be hard-pressed to recall much of the year 1996. I was nine years old, and my memories of that time are nebulous at best. I am certain, however, that news and politics were hardly on my mind, as I was more concerned about whether I'd be getting a Nintendo 64 for Christmas that year. (I did not.)
In that year, though, something would happen that wouldn't mean much to me until a decade later, and even more to me two decades later: National Review Online was born. What began as the most basic of young Internet sites would soon expand into a larger blog and eventually become home to the most robust conservative reporting and analysis available online.
I was first influenced by the publication nearly a decade after the site was launched. I discovered it online and quickly referred to my high-school library to read my very first copy of National Review magazine in print. That was in 2004, and I was becoming increasingly political. National Review gave me the understanding and drive to boldly defend conservative principles.
Spurred by increasingly liberal professors and a terribly left-leaning school newspaper in the time of anti-Bush rhetoric, I, along with six friends, co-founded our very own semi-monthly conservative newspaper that we aptly named Academy Review to counter the school-sponsored publication. We proved so successful that we caused the school administration a headache, required them to take over our bank account (we were quite good at fundraising), and nearly got ourselves suspended — or worse, expelled — on an ongoing basis.  Yes, "cancel culture" was rife even back in 2004; we just didn't understand how aggressively it would metastasize.
Flash-forward another decade to 2016, 20 years after National Review Online was born, and I would find myself reconnected with the famous conservative journal once more when I was invited to interview for the publisher position. Since I'm writing this post under my own byline, you already know how that story ends, and I will spare you the details (though it does make for an entertaining story for another time).
My point in sharing this with you is to highlight that, while the face of National Review Online has changed over the last 25 years, its mission and its impact have not. Since that first interaction with the publication, I have been inspired to take on numerous community-service efforts: Big Brother Big Sister, volunteer firefighter and EMT, and the State Central Committee of the Connecticut Republican Party, to name a few. I know I am not alone. Like me, countless other NationalReview.com visitors have been motivated to become active community members and leaders.
As I have come to understand intimately over the last five years, National Review is built upon a dedicated community of freedom-lovers who support the organization by subscribing to one of our three offerings (NRPLUS, Print, or Bundle), reading NationalReview.com daily, and, most impressively, donating out of their pure generosity and belief in our mission to speak the truth and deliver the highest-quality reporting and analysis journalism has to offer.
Right now, we are holding one of our most important fundraising drives of the year — our annual fall webathon, and we ask for your support once again. While we continue to grow, keeping a competitive edge in this crowded media landscape takes a great deal of investment. We want to bring you another 25 years of phenomenal reporting and analysis that both holds our leaders accountable and inspires another generation of young Americans to value the principles of conservatism.
If you, like me, feel you owe National Review a debt of gratitude for its impact on your own life, are so moved by my story, or simply wish to support our efforts, will you please join us today in support of our mission, and donate? And if you aren't already a subscriber, I can assure you, you are missing out. Please consider joining our dedicated community by subscribing here today.
If you have a similar story about NR, do share it. And if you've already donated (thank you!) or cannot donate for whatever reason, please consider sharing this post on any and all social-media channels you may use to help NR spread the word — be it Facebook,  Twitter, LinkedIn, email, or any other medium you might use to share your passions.
Thank you and God bless!