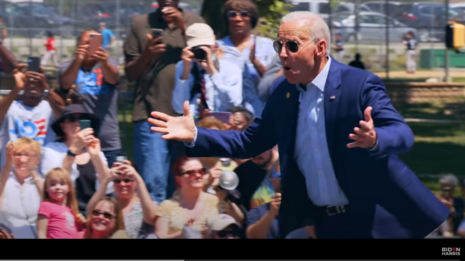 Has Joe Biden become the Rodney Dangerfield of politics?
After the Thursday Politico Playbook PM edition made a very brief mention that Biden would be taking yet another "lid" for the day, he was sent down their memory hole in a story covering recent political events. It seems they "don't give him no respect."
Here is Biden making a quick cameo appearance in the Playbook PM story, not to be seen again as other names (especially Donald Trump) and political matters are covered in detail.
THE BIDEN CAMPAIGN called a lid for in-person events at 10:06 a.m., according to Brittany Shepherd of Yahoo News. Biden does have a 5 p.m. virtual fundraiser.
And after that Biden was never mentioned again, despite having been in a big debate with President Donald Trump just a couple of days before.
With Biden gone as well as most definitely forgotten, PM  Playbook obsessed over the running theme of Orange Man Bad. Ironically, in an attempt to slam Trump, Playbook also contradicted one of the left's big narratives about Trump being controlled by Russia:
NYET, FOR NOW — "Russia Rebuffs Trump's Arms-Control Proposal," by WSJ's Michael Gordon: "Russia's top arms-control negotiator has rejected the Trump administration's core requirements for a new nuclear arms-control treaty, dealing a blow to the White House's hopes of concluding an election-year framework agreement with Moscow.

"Deputy Foreign Minister Sergei Ryabkov told The Wall Street Journal that the Trump administration's demands that a future treaty cover all Russia, Chinese and U.S. warheads and include more-intrusive verification is 'clearly a nonstarter for us.' He also warned that Moscow is prepared to respond if the U.S. allows the New START treaty, a nuclear arms-reduction agreement that entered into force in 2011, to lapse and moves to expand its nuclear arsenal."
So please explain to us peons how Trump could be controlled by Russia if Russia just rebuffed Trump's arms control proposal. Does not compute.
Meanwhile Biden remains mostly MIA from the campaign trail and bizarrely, Politico still sees nothing unusual in that.